Concerts at the Crossroads
Beulah has a long musical tradition and has hosted many concerts over the years.
However, since 2008 we have put together a regular programme of classical lunchtime recitals which take place on the last Wednesday of the month. The concerts last approximately fifty minutes and the programme is based on the principle of Classic FM meets Radio 3.
We frequently have RWCMD students to perform for us, and with some of them we have been able to follow their progress over their period of study. Other artists include Welsh musicians or those musicians who have made their home in Wales.
We also arrange the occasional evening concert, followed by a buffet.
---
2023 Lunchtime Concerts
The concerts for the next season are now prepared and about to start again in September.
Please note the earlier starting time - it is now 1pm and not 1.05pm as before.
We are also - reluctantly - charging £8 a ticket rather than the previous £5.
Running costs have gone up and we want to remain self- funding as far as is possible.
Please bring correct money if you can.
Sadly, over the summer months, two of the founder members of the organizing group for the Beulah concerts have passed away, Marg Jones and Cathryn Hales.
They made a great contribution for which we are all indebted and remember them with gratitude.
---
Wednesday November 29th at 1pm
The Oneira Trio
Emily Harris - harp
Elliot Kempton – viola
Isabelle Harris – flute
All three have been prizewinners in the recent past at the RWCMD
Complimentary coffee and mince pies after this concert!
---
2024 Lunchtime Concerts
---
Wednesday January 31st at 1pm
Singers from The David Seligman Opera School, RWCMD
Kathryn Forrest - soprano
Katey Rylands - mezzo-soprano
Rhys Meilyr Jones - tenor
Lachlan Higgins - baritone
Dora Seaton - piano
We will kick-start our New Year of concerts with these four young singers, currently in their first year of the Opera School at the RWCMD.
Please join us to hear the next generation of Artists as they share with us an exciting programme of Opera arias and ensembles and song.
---
Wednesday February 28th at 1pm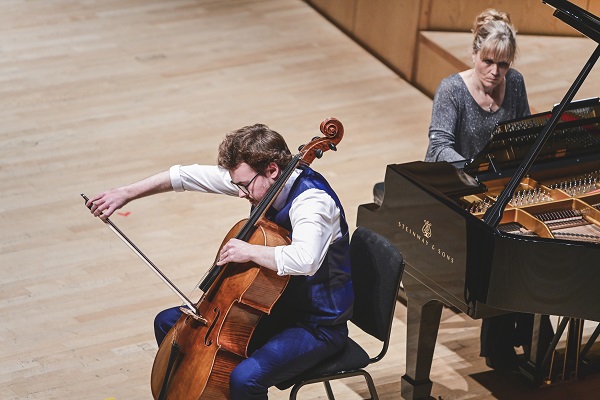 Rhys Herbert - cello
Rebecca Selley - piano
We welcome the 2023 RWCMD concerto winner to Beulah URC, accompanied by pianist, Rebecca Selley.
Rhys is currently studying joint 'cello and orchestral conducting at the Welsh College and is due to give his concert as the concerto winner in Spring 2024
---
Wednesday March 27th at 1pm
The 2023 Towyn Roberts Scholarship winner, Erin Gwyn Rossington joins us for the first time at Beulah URC for Concerts at the Crossroads.
Originally from North Wales, soprano, Erin, is a graduate of the RNCM and the GSMD and we are thrilled to welcome her to share her programme of opera, song and oratorio for our lunchtime recital in Easter Week.
---